Complete Guide to do technical SEO in blogs sites and home page in 2022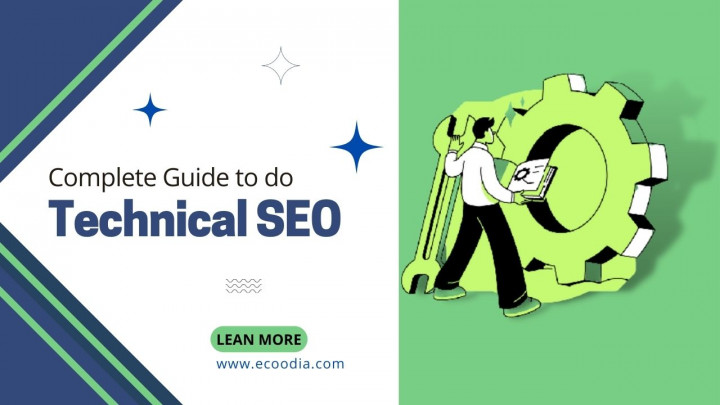 Complete Guide to do technical SEO
technical SEO
Author:
Ecoodia
Date:
29/10/2022 12:50 PM
Looking to learn about technical SEO? Then here's the guide to do technical SEO in blogs sites and home page for you.

In this article we will cover:
Search Engine Optimization (SEO) techniques refer to the tactics involved in creating and optimizing a website so that it can be easily crawled, indexed, and displayed by search engines, display that website.

Most marketers and business owners utilize SEO techniques to improve their website's chances of ranking well in search engine results pages (SERPs).
Here's the guide to do technical SEO in blogs sites and home page for you.
Site Security
Site Crawling & Indexing
Website Page Speed
User-Friendly Sites
Thin/Duplicate Content
Canonical Tags
Hreflang Tags


Site Security

A technically optimized website is a secure site. Making your website safe for users to ensure their privacy is a basic requirement these days.
There are many things you can do to secure your website (WordPress) and one of the most important is implementing HTTPS.

HTTPS ensures that no one can intercept the data transmitted between the browser and the website. So, for example, if people log into your site, their credentials will be safe.

You will need something called an SSL certificate to implement HTTPS on your website. Google recognizes the importance of security and has therefore made HTTPS a ranking signal: secure sites rank higher than insecure sites.

Check if your website is HTTPS in most browsers, it's very important and you can check it easily.

On the left side of the browser's search bar, you'll see a padlock if it's safe. If you see the words "unsafe", you (or your developer) have work to do!
Read More : Powerful Way to Boost Your Business to Through PPC
Site Crawling & Indexing

To ensure your site appears in the SERPs, you need to pay attention to what Google is doing when crawling, indexing, and rendering your site.

Technical SEO is the process of creating a website's look and feel, as well as ensuring it meets the needs of users and search engines. The more you satisfy the needs of the search engines, the more likely you are to rank well in the SERPs.

When you visit a website you like, do you browse through multiple pages and follow breadcrumbs to discover all the content the site has to offer? If so, you understand exactly how Google's crawlers (bots) navigate public websites.

When these Google bots start crawling the web, they will visit public websites and switch from one link to another just like a human would do.

Indexing is like a Google filing cabinet. When Googlebot crawls a public website, it caches that content and (once indexing is complete) the page appears in the relevant search engine results most relevant to the query. searcher's query.

One way to ensure that Google has properly crawled and then indexed your content is to take advantage of a free Google tool called Google Search Console.

Once you've created your free account, you can do a few things like track when the new site you create is indexed. You can also submit a sitemap, which helps Google correctly identify and catalog your site's content.
Read More : What is SSL and Why is an SSL certificate required in HTTP
Website Page Speed

When the Internet was in its infancy, web pages were more visible to search engines. The programming is very simple and the elements of the website are very simple.

Now, with the power of JavaScript and CSS, web developers can do so much more. As web content becomes richer and more dynamic, page speed becomes an even more important factor in user experience (and how your content ranks in the SERPs).

In general, the more JavaScript you have on your site (especially complex elements), the harder it will be to load. Since page speed is a ranking factor, you need to make sure to pay attention to the loading time of content when requested by the user.
Read More : How do I do SEO on Web Story
User-Friendly Sites

A user-friendly website is one that optimizes the user experience first. This does not mean that you ignore or ignore search engine requests; it just means you understand that people come first.

You can check if your site is mobile-first by going to Google Search Console and viewing the recent crawl log of a page added to your site yours recently.

If you see "Googlebot smartphone" crawled your page first, you know you're ready. You may have received a pop-up stating that your site has been moved.

So, you need to create the kind of web content that is easily accessible from a mobile device or tablet. And, you probably already have these types of pages on your website.

You can check by going to our website tester and navigating to the 'Stats' tab. From here, you can see how many of your sites are AMP links.
Read More : Complete Guide to do off-page SEO in blogs sites and home page in 2022
Thin/Duplicate Content

Light content refers to blogs, articles, or websites that don't bring much work to Googlebot. There may be no internal links on the page to help crawlers redirect to other parts of your site. It is also possible that the content of the page is not targeted at the user's search intent.

An example of lightweight content would be a services page that doesn't link to any other pages on your site and doesn't actually talk about the services you offer. Instead, it refers to your employee's name and extension.

Duplicate content refers to blogs, articles, or web pages that have identical copies elsewhere on your site.
However, don't let the name fool you; nearly identical content such as just replacing the brand name with product description may also be excluded as "duplicate content".

An example of duplicate content might be that you have two dry dog food pages that do not differ in language or page format.
Read More : Top 10 Digital Marketing Companies in Siliguri - Ecoodia
Canonical Tags

You may have heard of canonical tags or even seen canonical tags called rel="canonical". If you're not familiar with the term, canonical tags are markers that tell search engines that the URL you've specified is the original, actual copy of a page.

Canonical tags appear in section of a page's HTML code. They refer to the URL of one page (self-referencing), or they can even merge signals by referencing another page's URL.

Use a tool like Page Improve to create-modify page canonical tags and other elements directly from your browser.
Hreflang Tags

Hreflang is an HTML tag that tells search engines what language you are using on a particular page. This allows you to distinguish the relationship between web pages written in different languages.

For example, let's say you own a German company that is opening a service branch in France. The tag will tell Google that someone accessing your site with an IP address possibly from France will get the French version of the page.
FAQs
Technical SEO refers to website and server optimization that helps search engines crawl and index your site more efficiently to help improve organic rankings.
Technical SEO is an integral part of any SEO strategy, which is why a website must meet all search system recommendations. The technical review checklist covers several aspects aimed at analyzing and categorizing the specifications of the content and structure of the website.
Creating a website that is faster, easier to navigate, and easier to understand for search engines is the mainstay of technical optimization. Technical SEO is the part of on-page SEO that focuses on improving elements of your website to achieve higher rankings.
Technical SEO is important because it basically ensures that your website is easy to navigate and doesn't have any technical issues that prevent it from being understood and ranked by search engines. You need to do technical SEO to attract organic traffic and turn that traffic into customers.
The three types of SEO are: On-page SEO - Everything on your site - Blog, product copy, web copy. Off-page SEO - Anything that happens outside of your website helps your SEO strategy - Backlinks. Technical SEO - Anything that is technically done to improve search rankings - site indexing to help with bots crawling.
As Neil Patel explained, technical SEO refers to any SEO work done outside of the content itself. Whereas on-page SEO means all the things you can do on your website/content, while off-page SEO means all the things out there.
Technical SEO can help you get and maintain backlinks, connect with mobile users, and improve the quality of your connection when you: Connect securely to reduce SEO time. Improve page speed for mobile users. Updated open chart data to improve shareability on social media.