Top 10 Digital Marketing Courses In Pune in 2023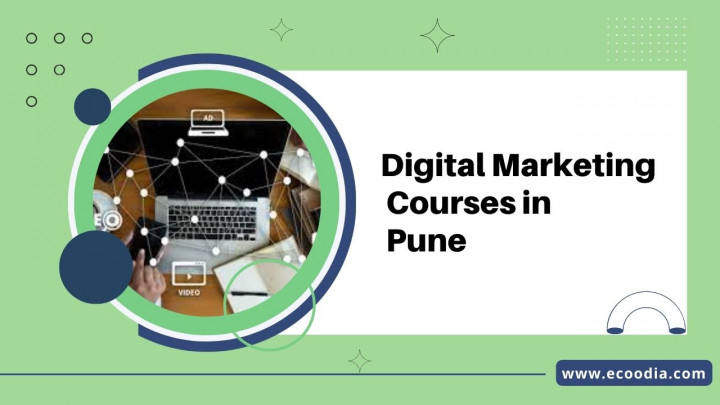 digital marketing courses in pune
Author:
Ecoodia
Date:
06/11/2022 2:02
In this Article, we have listed the top 10 digital marketing courses in Pune including syllabus, duration, cost, course highlights, etc.
Before going to the list of best digital marketing courses in Pune, let us understand the growing importance and development of the digital marketing industry in Pune and globally.
We have listed the top 10 digital marketing courses in Pune
IIDE
Simplilearn
Upgrad
Digital Trainee Academy
Freelancers Academy
Digital Vidya
PIIDM
Knowledge Hut
LIPSINDIA
NSDM Institute
.
IIDE Digital Marketing Courses In Pune
IIDE is India's leading digital marketing institute. Since its founding in 2016, IIDE has set new standards for education worldwide. They have trained more than 2,35,000 learners worldwide in various aspects of digital marketing.
Adopting a forward-looking approach to learning, IEN ensures that its students receive a tailored and personalized curriculum to help them improve their career skills.
Course:
Introduction to Digital Marketing
Search Engine Optimization
Key Performance Marketing Jargon
Search Engine Marketing
Campaign Planning
Presentation Making
Ecommerce
Live Project: Search Marketing
Contact: +91 96199 58615
Email ID: admissions@iide.co
Simplilearn Digital Marketing Courses In Pune
Founded in 2009, Simplilearn is a renowned platform for digital skills training. It aims to help people acquire the skills they need to thrive in the digital economy.
They offer training in areas such as cybersecurity, cloud computing, project management, digital marketing, and data science. Based in San Francisco, CA, they have helped many professionals and companies with their training and development.
Their hands-on approach results in learners reporting career benefits, including promotions and new jobs, upon completion of training.
Course:
Mastering SEO
Content Marketing
PPC Paid Per Click
Digital Analytics
Mastering social media
Mobile Marketing
Digital Strategy
Advanced Web Analytics
Advanced Search Engine Optimization (SEO)
Advanced Pay Per Click (PPC) Program
Advanced social media (With Facebook Blueprint Voucher)
Digital Marketing Capstone
Contact: 1800-212-7688
Address: Pune, India.
Upgrad Digital Marketing Courses In Pune
The online higher education company UpGrad offers degrees and certificates in digital marketing and other fields such as IT, accounting and management from top universities around the world.
The goal of the program is to help working adults and students develop their skills while continuing to study and work at the same time. This course will help students understand SEO, SMM, and other digital skills required in marketing.
Course:
Digital Marketing Landscape
Digital Channels Deep Dive – I
Digital Channels Deep Dive – II
Specialization in Branding and Communications
Specialization in Marketing Analytics
Specialization in social media and Content Marketing
Specialization in Marketing Communications (Focus on PR)
Contact: 1800 210 2020
Email: info@upgrad.com
Digital Trainee Academy Digital Marketing Courses In Pune
Digital Trainee is considered to be the first hands-on digital marketing institute in India offering one of the best digital marketing courses in Pune.
Students to entrepreneurs and even working professionals can choose to take this course to gain a better understanding of the digital industry.
This helps you get a better career and job prospects as well as a raise or income. Digital Trainee offers a globally recognized advanced digital marketing course in Pune for all those who are interested.
Course:
Digital Marketing Overview
Search Engine Optimisation
Introduction to Google Search Console
Content Marketing
App Store Optimisation
Website Planning
Search Engine Marketing
Online Display Advertising
Mobile Marketing
Video Marketing
Contact: +91 8983774747
Address: 2nd Floor, Office No. 203, Pune 411004
Email: info@digitaltrainee.com
Freelancers Academy Digital Marketing Courses In Pune
Freelancers Academy believes in their practical application of teaching each skill. They allow each student to work on real work projects through their agency to ensure they know how digital marketing works.
Freelancers Academy was also awarded by Radio City in 2019. They offer an instructor-led live online course.
Course:
Digital Marketing Overview
SEM
SEO
Content Marketing
Website Auditing
Google Tools
Remarketing
Video Marketing
Mobile Marketing
Whatsapp Marketing
Contact: +91 93727 62170
Address: Pune, India.
Email: info@freelancersacademy.co
Digital Vidya Digital Marketing Courses In Pune
Digital Vidya is Asia's leading vocational training institute in Pune. Their primary goal is to impart knowledge and skills to individuals and organizations.
As of 2009, Digital Vidya has over 38,000 trained professionals from 16,000 brands including Nokia, eBay, Reliance, Naukri, and more. participated in digital marketing training packages offered by Digital Vidya.
Digital Vidya has partnered with Google, Microsoft, Facebook, LinkedIn, Vskills and NASSCOM for accredited certifications and special internships.
Course:
Search Engine Optimisation
Organic Search Vs. Paid Search Results
HTML Basics
Search Engine Marketing
Youtube Marketing – Introduction & Ad Formats
Shopping Campaigns – Introduction
Mobile Ad Campaigns
Creation of Google Display Network
Successful Social Media Strategy
Social Media Marketing
Contact: +91- 8800290309 | +91-80100-33033
Email: info@digitalvidya.com
Address: Senapati Bapat Road, Shivaji Nagar, Pune – 411005, India
PIIDM Institute Digital Marketing Courses In Pune
PIIDM Institute Pune offers practical and job-oriented digital marketing courses in Pune. This course covers basic to advanced knowledge of proven and influential digital marketing tools.
Their professionally designed curriculum is led by a team of experts specializing in different areas of digital marketing. More than 15 certifications are offered to you, globally recognized by Google, HubSpot, and more.
Course:
Digital Marketing Overview
Blog Creation
Business Website Creation
E-commerce Creation
App Creation
Graphic Creation
Video Creation
Social Media Automation
Search Engine Fundamentals
On-Page SEO Fundamentals
Contact: +91 8552077668
Address: Shivank 6th Floor, 404 Office, Deccan Pune – 411004.
Email: info@piidm.com
Knowledge Hut Digital Marketing Courses In Pune
Knowledge Hut helps professionals from a variety of industries and sectors develop new skills and apply them in a variety of ways in the global corporate world. In addition, the school offers courses in areas such as technology and digital media.
Always in an innovative and practical way, the organization offers training courses with high added value. Through seminars led by industry experts, the company awakens the wisdom and motivation for professionals to overcome obstacles.
Course:
Introduction to Digital Marketing
Business strategy and marketing
Brand strategy
Marketing Analytics
Introduction to marketing analytics
Excel, Statistics and Data Visualization
Metrics, Sources, and Statistics
Segmentation, Targeting, and Tracking
Testing & Experimentation
Budgeting & Planning
Presenting & Storytelling
Contact: +91-84484-45027 / 1800-121-9232
Email: support@knowledgehut.com
LIPSINDIA Digital Marketing Courses In Pune
LIPS India, also known as Lavenir Institute for Professional Studies, is recognized as the best digital training institute in the country. They offer digital marketing course in Pune.
It has been designed by professionals and experts in the field of IT, IIM, etc. They excel in different fields like SEO, SEM, SMM, as well as web design. LIPS India gives you a Google AdWords certificate after completing the course.
Course:
Website Creation
Google Adwords
SEO – On-Page
SEO – Off-Page
Social Media
Email Marketing
Ad Servers Display
Google Analytics
Mobile Marketing
Social Media Monitoring
Contact: +91 7350787800
Address: 47/2, Sankla Arcade, Pune Maharashtra 411004.
Email: contact@lipsindia.com
NSDM Institute Digital Marketing Courses In Pune
NSDM is one of the most recognized training institutes offering professionally designed courses in digital marketing. NSDM offers a combination of theoretical and practical training to its students in digital marketing, SEO, Google Analytics and social media marketing, as well as globally recognized certifications.
Course:
Introduction to Digital Marketing
Website Planning & Analysis
Search Engine Optimisation
Search Engine Marketing
Social Media Marketing & Influencer Marketing
Web Analytics
Google Tag Manager
Display Advertising
Video Advertising
E-Commerce Marketing
Contact: 8149138218 | 9145331345 | 8806340515
Email: info@nsdmindia.com
Address: Koregaon Park Branch: 304 & 305, 3rd Floor, Gera Legend, Near German Bakery, North Main Road, Koregaon Park, Pune, Maharashtra.
Read More : Top 10 Digital Marketing Companies in Siliguri - Ecoodia
Conclusion
Digital marketing is simple and fun to learn. You can definitely consider studying online. You don't need to take an offline marketing course, especially during the pandemic, for free.
With courses like our online digital marketing course, you can get high-quality content with the best possible placement opportunities, all while sitting under the same roof.
However, if you want to take an offline course, we hope this list helps you choose the best institute that offers the best digital marketing course in Pune, based on your individual needs.
Digital marketing is easy to learn nowadays with many offline digital marketing courses in Pune. We hope this list of digital marketing courses in Pune brings you closer to becoming a successful digital marketer.