Top 8 Domain and Page Authority Checker Tools 2023- Ecoodia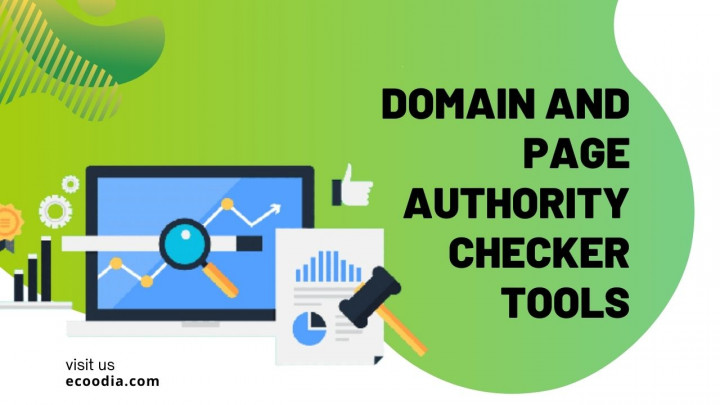 Domain and Page Authority Checker Tools
Author:
Ecoodia
Date:
28/12/2022 3:45 PM
If you are one of those people who knows PA and DA from their blog, that's fine, but if not, this is a learning chapter for you. Has anyone ever asked you about the domain authority and page authority of your site? Here is a selection of the top domain authority and page authority checking tools to determine a website's PA and DA ratings.
What is Domain Authority?
Domain Authority, or DA for short, is a component of a website's search engine ranking. The SEO industry's true giant, SEOmoz, powers this module. The score that a website's domain name receives from search engines is known as domain authority. To show that they can appear higher in search engine results pages, they are doing this. The maximum power of a domain is 100 on a scale of 1 to 100.
What is Page Authority?
Moz is also the developer of Page Authority. It indicates domain authority slightly differently. A website's Page Authority rating is determined by how well its pages perform in search engine results. In addition, this metric evaluates a website's authenticity using a logarithmic scale from 1 to 100. Higher rankings in the SERPs are more likely for content with the highest Page Authority scores.
Read More: Ecommerce Business Mistakes in 2022
Top 8 Domain and Page Authority Checker Tools
Fortunately, there are numerous online PA and DA score checking tools available. One can proceed with any of them to determine how compatible their website is to rank higher in search engine results. Don't worry if you don't know which tools are best; we've got you covered. For your convenience, we've compiled a lengthy list of the top 8 free domain and page authority checkers below.
SEMRush
SiteChecker
Ahrefs
Small SEO Tools
SEO Profiler
Link Explorer
Website SEO Checker
Bulk DA Checker
1. SEMRush
For digital assets or bloggers, SEMRush provides a combination of free and paid SEO tools. With an extensive array of online tools available to users, SEMRush is at the forefront when it comes to evaluating the general health of a website. It comes with a variety of tools for examining page authority, domain authority, website checker, keywords, competitive spying, PPC performance, etc. In order to optimize their websites for search engines, digital marketers visit SEMRush and purchase a variety of tools.
Read More: Social Media marketing Company in Pune 2023
2. SiteChecker
With the help of an impressive collection of online SEO tools, you can analyze your online assets on another comprehensive digital platform. With the aid of SiteChecker, you can monitor SEO, check backlinks for free, check website rankings, and check a number of other helpful parameters for your website. Bloggers can track the performance of their blogs over a specified period of time with SiteChecker. To give you a complete picture of the health of your site, it generates real-time SEO audit reports.
3. Ahrefs
The industry-leading SEO management system with widespread acclaim is Ahrefs. The ability to track competitive analysis, perform keyword research, backlink analysis, and check page and domain authority is useful for digital bloggers, SEO analysts, and operators of online businesses. In addition, Ahrefs assists marketers, bloggers, and companies in monitoring their backlinking tactics, anchor texts, top landing pages, and various other website metrics.
Read More: Best Social Media Marketing Company in Surat
4. Small SEO Tools
Small SEO Tools is a fantastic collection of cutting-edge yet cost-free SEO monitoring tools to assist users in managing their online portals. The web portal offers many other helpful services in addition to checking page authority and domain authority, including word count, plagiarism detection, reverse image search, and IP address.
5. SEO Profiler
The SEO Profiler offers a wide range of SEO tools, just like other SEO software tools, to assist you in putting the proper marketing strategies into practice. It covers almost everything you require to keep track of the performance of your website from every angle. Users can use SEO Profiler to check their DA and PA scores, competitor keyword strategies, site rankings, keyword suggestions, SEO audits, backlink policies, mobile optimization, and much more.
Read More: Digital Marketing Company in Vadodara 2023
6. Link Explorer
The fantastic Link Explorer tool from Moz allows you to examine your website's page authority, domain authority, anchor texts, keywords, and other factors. On a scale of 1 to 100, it offers a nearly accurate indication of domain and page authority. Link Explorer is a comprehensive collection of ideal SEO metrics that will raise your website's position in SERPs and enhance its functionality. To further develop your ranking policies, you will come across a better analysis of the tactics used by your rivals.
7. Website SEO Checker
Any website's page authority and domain authority can be checked using this free SEO tool. Numerous intelligent tools are incorporated into it, including a domain age checker, an Alexa rank checker, a spam score checker, a social share counter, a keyword position checker, a Google index checker, an HTML/XML sitemap generator, a backlink checker, and others.
8. Bulk DA Checker
The domain authority of up to 10 websites can be checked at once by users of Bulk DA Checker. You can also reset the URL section and add new domains to it. In some cases, the Bulk DA Checker also includes a number of other useful tools in the package, such as an URL extractor, an Alexa rank checker, and a unique domain checker.
Read More: Best Digital Marketing Company in Mohali 2023
Conclusion
The most famous domain authority and page authority checkers on the Internet are included in the following list. If you are a professional blogger or online marketer, you should use these tools to highlight SEO tactics that work for better results. You will have a thorough understanding of the potential future health of your website.