Latest 7 Top Marketing Tips for Small Business in 2023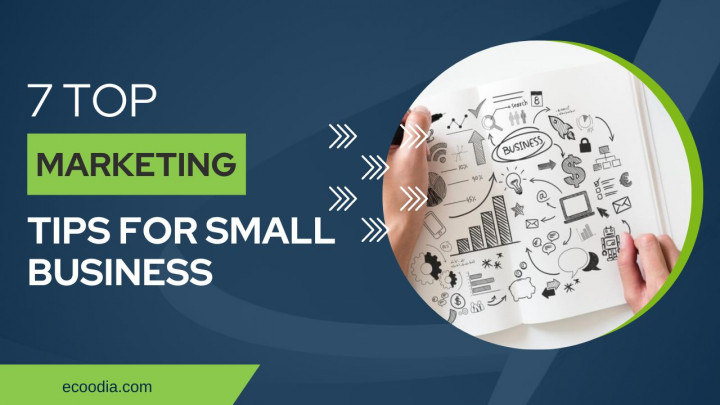 Top Marketing Tips for Small Business
Author:
Ecoodia
Date:
08/12/2022 1:20 PM
In this article, we'll talk about a number of marketing tactics that can be used by small businesses to carve out a niche in the market and establish a strategy for success.

To attract customers and, ultimately, make your business successful today, marketing has become essential.

Businesses need a number of strategies that are in line with their sales objectives and brand aspirations if they are to achieve the best results from their marketing efforts.
Diverse strategies are employed by marketing experts to draw clients to their companies. The ability to recognize and interact with your target audience is one of the most crucial strategies to keep in mind when creating a marketing plan. After that, the acquisition is comparatively simple.
Here are 7 marketing pointers that have been proven effective for small businesses over the years.
Establish Your Brand
Know Your Customers
Build Your Website
Craft A Winning Content Strategy
Make the Most of Email Marketing
Leverage social media
Collaborate with Local Influencers
Final Insight
Establish Your Brand
Customers need to be able to recognize a small business' brand identity in order for them to know who they are, what they do, and what they stand for.
A company must use the appropriate name, logo, colors, and images to communicate its brand to customers once it has determined what type of business it is.
To develop their brand identity, small business owners can work with a reliable marketing firm. Despite the cost of the process, it is worthwhile.
Know Your Customers
Understanding the traits and preferences of your target audience is essential for developing a marketing strategy that will be successful and result in long-term relationships with them.
Conducting interviews and surveys is essentially free. Ask your current customers what they think of your goods or services.
By doing so, you'll be able to design a solution that addresses the problem your target customers are experiencing.
Build Your Website
A website serves as the equivalent of the modern business card. Your first opportunity to make an impression comes when a potential customer clicks on your website after finding your company name on Google.
Businesses should use their websites to expand the amount of information they offer to their clients, draw free search engine traffic, direct users to their social media, and position themselves as marketing consultancies by disseminating educational content.
The creation of apps is a crucial component of small business marketing, along with creating a website. With the availability of the Internet at your fingertips and the recent launch of 5G services, Android-centric app development is a requirement for wide distribution and increased brand recognition.
Utilizing the exponentially increasing average daily time spent on mobile is essential for luring potential customers.
Craft A Winning Content Strategy
Your content will be based on your objectives and target audience. Content is vital to promoting your business because it engages your audience, enhances search engine rankings, and supports your inbound marketing efforts.
Your content is easier to read, understand, and share when you provide documents as lists.
Create enduring connections with your readers by writing articles and blog posts that are engaging, entertaining, or educating.
By simplifying complex data and statistics, they draw in the general public. Additionally, it's an effective method of conveying information.
Make the Most of Email Marketing
A number of benefits come with using email as a marketing strategy. It is easy to implement, automated, quick to communicate, reasonably priced, and capable of reaching a large number of potential clients.
Businesses can send emails that are interesting, practical, and pertinent to both current and potential customers once an email address is added to a list.
Leverage social media
Despite ongoing social media marketing techniques, social media platforms remain a simple and cost-free way for businesses to connect with consumers interested in their goods and services. Change.
If your potential customers are feeling overwhelmed, start by concentrating on the social media platform that best suits your business.
As a small business owner, you have the ability to manage more resources, so it's critical to make the most of your time when it comes to social networking.
Collaborate with Local Influencers
Working together with regional influencers and getting them to promote your products or services to their audience can be extremely beneficial for small businesses.
Starting with a clear objective is crucial because influencer marketing campaigns can take on a wide range of shapes, including giveaways, brand ambassadors, discounts, and partnerships.
You can reach out to the appropriate people and design a successful campaign with clearly defined goals if you know what your marketing strategy's goals and objectives are.
Final Insight
Small business marketing is essential right now. Unlike large corporations that have the capital to launch their businesses, small businesses increasingly rely on successful marketing strategies.
Small businesses must carve out a niche for themselves in the crowded market if they hope to survive. Making your brand distinct from the competition requires time and patience.
Read More: Best Essay Writing Websites for College Paper 2022-2023