How to Build on Your Digital Marketing Momentum in 2023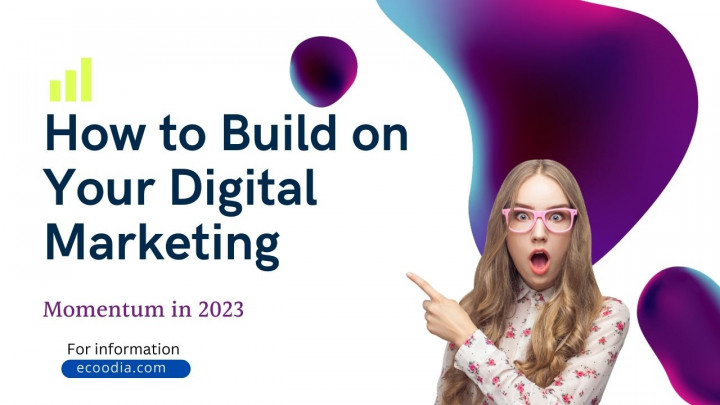 build your digital marketing momentum
Author:
Ecoodia
Date:
10/12/2022 5:31 PM
You must always look ahead as a business owner in digital marketing. The industry for online marketing is growing at a 9 percent compound annual growth rate.

As a result, if you want to be successful in a market that is getting more and more competitive every year, you must think long term. Review the top industry trends we believe you must master if you want to stand out in the digital marketing sector in the future.
Below are 7 hacks on how to build your digital marketing momentum in 2023.
Reach out with direct marketing

Clips, reels and videos

More mobile-first visuals

Keep creating top quality content

GPT-4 smart chatbots

Refresh your existing content

Build your media partnerships
Reach out with direct marketing
Still, nothing can match the power of direct marketing. Send a message to your repeat or former customers if you have their email addresses in a database. Instead of attempting to convert new leads, it is more likely that you will make sales from previous clients. Just be sure to reach out to offers you want to revisit.
Clips, reels and videos
We cannot ignore the significant impact that TikTok, YouTube Shorts, and Instagram Reels have had on the industry in recent years when discussing images. It's likely that TikTok's influence will only increase in the upcoming year as its monthly user base is expected to nearly double to nearly two billion by 2022.
Ideal short vertical video content ranges from 30 seconds to 3 minutes. On YouTube, long-form video content has a place, but to maximize a video's viral potential, it's best to cut it down and make it mobile-friendly.
You have a greater chance of going viral and having your content shared widely the shorter vertical videos you produce.
Read More: Latest 7 Top Marketing Tips for Small Business in 2023
More mobile-first visuals
Many of us prefer to learn through stunning visual content, such as infographics, reels, and educational videos, rather than through long walls of text. If you want to compete in the information space of 2023 and, more generally, in a world where attention spans are getting shorter and shorter, I recommend increasing your production of visual content.
You should never forget to make your visual content responsive for mobile devices. Desktop visual production ought to come last. Currently, mobile devices account for almost 54 percent of all web traffic, and this number will rise in 2023. Because of this, I advise placing vertical, mobile-friendly visuals at the top of your content calendar.
Keep creating top quality content
The key to successful digital marketing is high-quality content. This includes interesting images, entertaining videos, enlightening blog posts, and instructive infographics. Maintaining the caliber of your content is crucial if you want to keep your digital marketing active at all times.
Additionally, you can look into developing fresh kinds of content; for example, podcasts, eBooks, and market studies are all excellent resources for promoting your company. Just be sure to consider what will benefit your customers' lives and propel you toward greater sales.
Read More: Best Essay Writing Websites for College Paper
GPT-4 smart chatbots
The world was shocked by the Generative Pre-Trained Transformer 3 (GPT-3)'s ability to produce human-like natural language when it was introduced in 2020 by Silicon Valley-based OpenAI. GPT-3, the most intricate AI language model ever created, has the ability to create engrossing poetry, prose, and dialogue from scratch using only the most straightforward user prompts.
The eagerly anticipated GPT-4 might be released in 2023. Despite significant advancements in recent years, there are some problems with AI-based language processing. GPT-3-enabled chatbots continue to fail the Turing test, and many users detest having chatbots answer their support questions.
Chatbots are about to make a huge advancement in their development with the impending release of GPT-4. The chatbot takes control once it can produce language that is indistinguishable from human speech, complete with all of our emotional nuance and subtle interpretations.
Even the complete replacement of human support agents by GPT-4 chatbots is possible. Smart businesspeople will monitor new GPT-4 chatbot developments and seize opportunities as they arise.
Refresh your existing content
It's crucial to remember the content you already have while we're talking about content. An excellent way to improve the search engine optimization of your website is to add new keywords to older blog posts or edit the copy to better reflect the current situation.
By updating what you already have, you can create new, pertinent content to share on social media and increase website traffic. Updates to existing articles on how the pandemic has affected your company or the steps you are taking to make customers feel safe and adapt to the new normal are a great place to start.
These topics highlight your business ethics in the face of difficulty, which is always a useful marketing strategy.
Read More: Look at the Top 10 Web Design Company in Udaipur
Build your media partnerships
There are numerous ways to promote your brand, including influencer marketing and guest posting. Writing an article or blog post as a guest and including a link to your company is known as guest posting. You gain several benefits from this, including the chance to connect with a new audience, a quality SEO backlink to your website, and the chance to position your company as a market leader.
Try to collaborate with websites where you can publish frequent guest posts all year long. Similar to guest posting, influencer marketing involves someone else producing content about your company.
The fact that your brand is linked to another website or social media profile, however, has the same effect. You can connect with a new audience while improving your SEO. An influencer is someone who has a sizable social media following and has the power to affect what others buy or where they go.
Influencers frequently receive free goods or services from brands when they work with them in exchange for positive press about their experiences.
It's relatively simple to strengthen your social media marketing strategy by connecting with the appropriate influencers for your brand, and it's a great way to gain exposure on platforms you don't already use. Reaching a large audience is made easy with digital marketing. The benefits will quickly become clear if your franchise actively promotes its marketing initiatives.
Read More: Latest New Top 10 Digital Marketing Company in Delhi